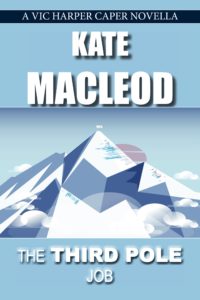 Vic Harper and her gang retired wealthy from their life of thievery and heists. Whether in a luxury condo overlooking the river in Minneapolis or in a modernist mansion built into the side of a mountain in Colorado, life comes easy now.
Perhaps too easy.
When an old friend asks for a favor his niece, Vic and her mentor Chase Woodward leap at the chance to relieve a little of the boredom. But a quick bit of B&E in a wealthy suburb of Chicago leads to an even greater challenge.
The prize? Nothing much. Just the opportunity to level a playing field for their friend's niece.
But the heist? May prove to be their toughest ever. Because to get to the prize, they'll have to climb a mountain.
And not just any mountain. Their prize waits on the summit of Mount Everest.
The Third Pole Job, the first novella in the Vic Harper Caper series. For those who love capers, heists and other impossible missions.
Published: September 12, 2022
Available in: eBook (mobi and epub), Hardcover, Paperback
ISBNs:
eBook 978-1-958606-21-6
Paperback 978-1-958606-22-3
Hardcover 978-1-958606-23-0
Or use the ISBNs above to request a copy from your local library!