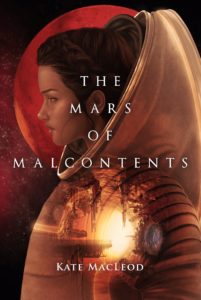 Valentina knows how to live in the community spread throughout the old mining caves under the Martian ice cap. A violent place in a forbidding climate, but home for her and her brother.
Until she wakes from a coma to find her brother gone. Her father thinks her incapable of following them back to the equatorial cities.
He underestimates her – her stubbornness, her courage and her inventiveness. But she underestimates the cold, airless surface of Mars.
A journey from the polar ice cap to the Martian equator? Not enough to stop Valentina. Not with her brother on the line.
Published: May 16, 2017
Available in: eBook (mobi and epub), Paperback, Hardcover, Large Print, Audiobook
ISBNs:
eBook 978-1-946552-32-7
Paperback 978-1-946552-33-4
Hardcover 978-1-951439-38-5
Large Print Paperback 978-1-951439-22-4
Audio 978-1-509493-14-2
Or use the ISBNs above to request a copy from your local library!