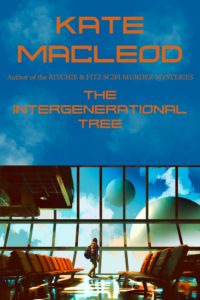 Humankind has reached the end of its adolescence. The time has come to leave our solar system nest and see what the rest of the galaxy has to offer.
Marie Marguerite has also reached the end of her adolescence, and she is ready for the great adventure of life on a generation ship heading to a neighboring star.
But a well-meaning relative she has never met destroys her plans, leaving her alone on a dying space station as all her friends take off without her. What can she do, left behind in humankind's past?
THE INTERGENERATIONAL TREE is a science fiction novella with a generous side of gothic romance, all wrapped around a young heroine who must rely on her own brains and a dash of snark to put her life back on track.
Published: February 28, 2017
Available in: eBook (epub and mobi), Hardcover, Paperback
ISBNs:
eBook 978-1-946552-30-3
Paperback 978-1-946552-31-0
Hardcover 979-8-761564-87-9
Or use the ISBNs above to request a copy from your local library!