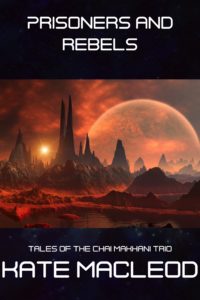 The Chai Makhani Trio survived a night and a day in the jungle of a thousand easy deaths. They even evaded capture at the hands of Koltn Ward and the rest of the enforcers.
But night falls again. And the best Commonwealth medicines that Alextra keeps pulling from her seemingly bottomless belt pouches only slows the spread of venom up her leg.
But not as fast as the venom slows her steps. And somewhere out there they know Koltn Ward is regrouping. Their only hope lies in the last place Keani ever wanted to see again: home.
"Prisoners and Rebels" is the fourth episode in the ongoing monthly science fiction adventure serial TALES OF THE CHAI MAKHANI TRIO.
Available in Ebook, Print and Audio
ISBN eBook 978-1-951439-99-6
ISBN Print Book 978-1-958606-00-1
Audio available via the Podcast, links here.