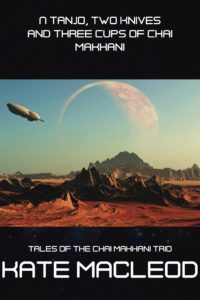 Elyot loathes the massive Commonwealth ships that hover menacingly over his home world of Adghal. He hates the Commonwealth enforcers who harass the populace even more.
But with his mother missing so long she surely must be dead, Elyot keeps his head down and strives to avoid notice.
And he succeeds until the day two strangers appear in the tavern where he waits tables. One dressed in rags with her hands bloodied and bruised, the other in finery beyond the means of the average citizen of Adghal, but both sharing an anxious jumpiness and a fondness for deep hoods to hide their faces.
Then a squad of enforcers troop in. Just looking for an after-shift drink? Or something more sinister? Elyot knows with enforcers, one shifts to the other in the blink of an eye. And that squad sits between everyone in the subterranean tavern and the only way out.
"A Tanjo, Two Knives and Three Cups of Chai Makhani" is the first episode in the ongoing monthly science fiction adventure serial TALES OF THE CHAI MAKHANI TRIO.
Available in Ebook, Print and Audio
ISBN eBook 978-1-951439-93-4
ISBN Print Book 978-1-951439-94-1
Audio available via the Podcast, links here.