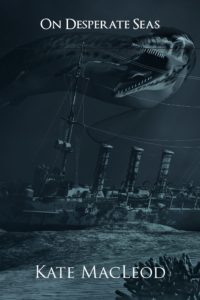 It all started with Penelope.
Or perhaps Jane, for Jane's letter sent Edgar on the first leg of his improbable journey.
The man Penelope wed in Edgar's place lies at the bottom of the sea, her heart with him. Bedridden, she vomits sea water and slowly drowns. She needs her heart back. But Jane lost something else, something more than her heart.
"On Desperate Seas" follows a ship searching for the remains of the Sir John Franklin Expedition but finding something deadlier lurking beneath the Arctic Sea.
The eBook of this short story is in the following collections:
Published: December 13, 2016
Available in: eBook (epub and mobi), Paperback
ISBNs:
eBook 978-1-946552-24-2
Paperback 978-1-946552-25-9
Or use the ISBNs above to request a copy from your local library!