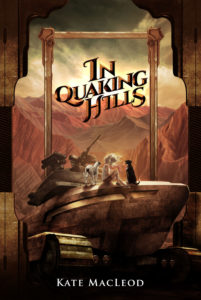 After spending the last four days of her life hiding out from a deadly solar particle storm in an underground bunker, trapped with six treacherous women and a trio of girl assassins, Scout Shannon just wants to find the man who conned her mentor and leave her home world for good.
Alas, the long-threatened war draws nearer and Scout finds herself caught in the middle, surrounded by rebels and bandits. Worse, she carries a pocketful of dangerous secrets with no one to entrust them to.
And the hills keep shaking. Something lurks deep underground. Something massive. Something world-destroying. Scout leaves in three days. If she lives that long.
This is the second book in the complete six-book THE TRAVELS OF SCOUT SHANNON series.
Published: January 30, 2017
Available in: eBook (mobi and epub), Paperback, Hardcover, Large Print, Audiobook
ISBNs:
eBook 978-1-946552-52-5
Paperback 978-1-946552-53-2
Hardcover 978-1-951439-41-5
Large Print Paperback 978-1-951439-25-5
Audio 978-1-987103-25-0
Or use the ISBNs above to request a copy from your local library!