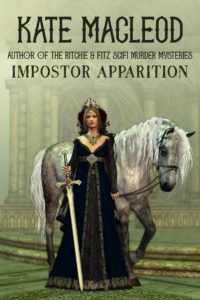 A confused ghost pulls herself out of nothingness to find a dead woman soaked in blood in a hollow outside of a temporary village of tents.
The ghost remembers nothing, not even her own death. But the hollow stinks of magic. Someone summoned her into existence to solve this crime.
Another ghostly form already comforts the distraught man grieving over the corpse of his wife. Solving a crime? A one ghost job. So why the second beautiful yet useless apparition?
"The Impostor Apparition," a tale of murder and court intrigue, told by a most unusual narrator.
The eBook of this short story is in the following collections:
Published: June 27, 2017
Available in: eBook (epub and mobi), Paperback
ISBNs:
eBook 978-1-946552-14-3
Paperback 978-1-946552-15-0
Or use the ISBNs above to request a copy from your local library!