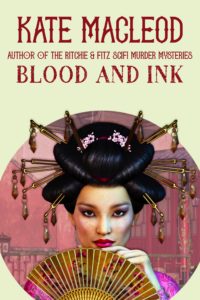 Sequestered behind screens, shielded from the world, Shiori hates the life of a noblewoman in Heian-Kyo.
She endlessly paints the mountain home she misses. She longs to convey all, the sights and sounds and even the smells.
Then she finds a most evocative technique, one that costs her dear.
A story from the ornately structured world of tenth century Japan about an unusually committed artist.
The eBook of this short story is in the following collections:
Tales from Heian-Kyo and Others
Published: December 13, 2016
Available in: eBook (epub and mobi), Paperback
ISBNs:
eBook 978-1-946552-08-2
Paperback 978-1-946552-09-9
Or use the ISBNs above to request a copy from your local library!