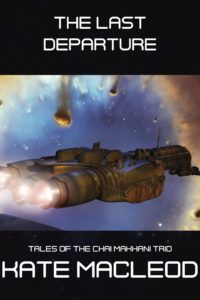 The Chai Makhani Trio have fought Koltn Ward and his Commonwealth Enforcers all over the surface of Adghal and in orbit above it. But their battle has reached its end.
Elyot, Alextra and Keani stand before the governor of Adghal and the leaders of the rebellion with everything needed to repel the Commonwealth for good.
But politics muddies everything, even the most basic of survival impulses. Time grows short, while the danger just grows.
Their world balances on a pinpoint. Which way will it fall? Freedom or bondage? The Chai Makhani Trio face their final challenge. But win or lose, their trio is doomed to be broken.
"The Last Departure" is the twelfth and final episode in the ongoing monthly science fiction adventure serial TALES OF THE CHAI MAKHANI TRIO.
Available in Ebook, Print and Audio
ISBN eBook 978-1-958606-14-8
ISBN Print Book 978-1-958606-15-5
Audio available via the Podcast, links here.