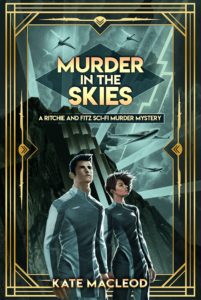 Murdina Ritchie put everything on the line to earn one chance to prove herself at the Oymyakon Foreign Service Academy. Just one chance. Despite the bad reputation that comes with her family name, despite the bullies desperate to see her fail, she refuses to back down from any opportunity to show her worth.
Everyone at the academy knows her skill, knows her inability to compromise in the pursuit of excellence, and knows her drive for success at all costs that borders on desperation.
But all of that common knowledge works against her when a bullying upper class cadet dies in a freak training accident that looks a lot like murder. Because now everyone knows that Murdina Ritchie tops any possible list of suspects.
Suddenly she finds a goal beyond proving her worth: proving her own innocence.
This is the second book in the complete six-book THE RITCHIE AND FITZ SCI-FI MURDER MYSTERIES series.
Published: April 14, 2020
Available in: eBook (mobi and epub), Paperback, Hardcover, Large Print
ISBNs:
eBook 978-1-951439-04-0
Paperback 978-1-951439-05-7
Hardcover 978-1-951439-49-1
Large Print Paperback 978-1-951439-31-6
Or use the ISBNs above to request a copy from your local library!